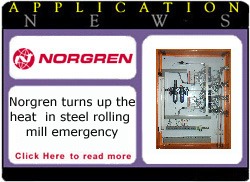 When any facility suffers a major fire this can be seen as a disaster but when the fire is in the main control panel for a flat steel rolling mill that produces 84% of South Africa's annual flat steel requirements this could be described as a potential crisis. This is exactly what happened at Iscor's Vanderbijlpark steel works in South Africa's Gauteng Province. The demand for its flat steel is high and Iscor suffered a major fire within its pneumatic spray bar panel that controls the water spray for cooling the hot rolled steel. Due to this production could have well come to a grinding halt.
The last thing the manufacturer could afford and actually wanted was significant periods of downtime within its production facilities. To satisfy orders they were faced with the possibility of having to import rolled steel from direct competitors, obviously paying a premium price. Enter Norgren into the picture. Iscor needed to re-start production as swiftly as possible. Ernest Lowe, who in conjunction with Norgren, provide hydraulic and pneumatic automation solutions across a wide sector of different industries within South Africa were called upon and a rescue plan swung into place.
The key factor behind this plan was speed of delivery. Norgren's main competitors in South Africa were quoting delivery times for the pneumatic solution of 8 to 10 weeks. This was obviously unacceptable to Iscor, it needed a solution in less than 5 days to avoid costly losses in production. In conjunction with Ernest Lowe Norgren pulled out all the stops and jointly designed and delivered the new spray bar panel in 4 days from receipt of enquiry.
At the heart of the new spray bar panel is Norgren's flagship product the VM10. The innovative 10-station modular valve island was specified due to its ease of installation and its excellent system response times. The new design actually cuts down on the amount of pneumatics specified within the control panel and delivers performance benefits to Iscor.
"Norgren relishes new engineering challenges and this certainly was one of them," stated Lance Palmer of Norgren. " This crisis gave us the opportunity to show what we are good at that is delivering pneumatic solutions quickly. In conjunction with Ernest Lowe we have provided an innovative product on budget and in record time".
Editors notes:
Norgren is one of the world leaders in the supply of motion and fluid control technologies for a wide variety of different industry sectors and is committed to optimizing technological performance for its customers' advantage. All of Norgren's solutions are engineered for flexibility based on strong product fundamentals.