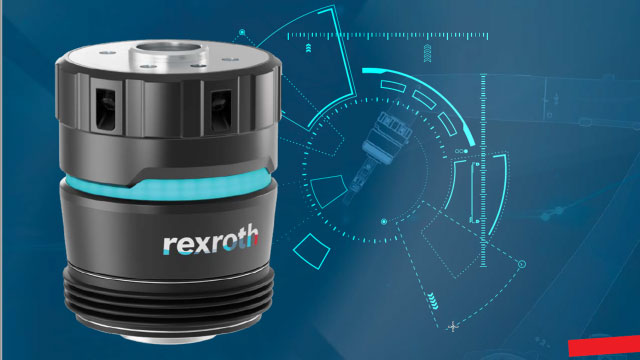 Smart Flex Effector: A Modular and Intelligent Tool for Precise Automation
Bosch Rexroths Smart Flex Effector is an innovative and intelligent tool for flexible automation. It is a sensor-based compensation module that can be easily integrated into a wide range of manufacturing processes to improve productivity and accuracy. This white paper provides an overview of the Smart Flex Effector, its features, benefits, and potential applications.
FEATURES
The Smart Flex Effector is a highly adaptable tool that can be configured to meet the specific needs of each application. Its modular design allows it to be easily customized with various sensors, grippers, and tools to perform a variety of tasks. The effector is equipped with intelligent features that enable it to perform tasks with high precision and accuracy. The effector can measure the position deviation of the gripping device in relation to the workpiece in six degrees of freedom, enabling the robot to adjust its position to ensure precise and accurate placement of the workpiece.
After picking and placing, the compensation module can be returned to the zero position and locked. The sensor technology provides detailed process feedback in real-time. The measured values of the module provideprocess quality information and can be used for monitoring and logging.
BENEFITS
The Smart Flex Effector offers a number of benefits to manufacturers, including increased productivity, improved quality, and enhanced precision. The effector's modular design enables it to perform a wide range of tasks, reducing the need for multiple tools and equipment. This can help to reduce costs and increase efficiency in the manufacturing process. Users are able to measure the geometry of the workpiece in- process, essentially transforming your industrial robot into a supplementary measuring device. This intelligent compensation device measures a varietyof data points, including position deviation in all 6 axes, acceleration, temperature, and much more. This data can be used to create a digital twin of your entire process. Quicker teaching can be achieved thanks to the exact coordinates reflecting directly on the controller. The software tools and common interfaces allow for flexibility and the tactile solution can be retrofitted at any time.
POTENTIAL APPLICATIONS
The Smart Flex Effector can be used in a wide range of applications, including pick-and-place operations, assembly, and material handling. Its adaptability and modularity make it an ideal tool for use in flexible manufacturing processes where there is a need to quickly and easily change the tools and equipment used in the process. In the automotive industry, the Smart Flex Effector can be used for tasks such as placing electronic components, installing interior components, and performing quality control checks. In the food and beverage industry, the effector can be used for tasks such as sorting and packaging, filling and sealing, and palletizing. The end effector is simply attached to either an industrial robot or a cartesian system.
CONCLUSION
The Bosch Rexroth Smart Flex Effector is a versatile and intelligent tool for flexible automation. Its modular design and intelligent features enable it to perform a wide range of tasks with high precision and accuracy, while also allowing for time and cost savings in the manufacturing process. With its potential applications in a variety of industries, the Smart Flex Effector is a valuable tool for improving productivity and quality in the manufacturing process.
Bosch Rexroth Corporation
14001 South Lakes Drive
Charlotte, NC 28273
Phone: (800) REXROTH
(800) 739-7684
info@boschrexroth-us.com
www.boschrexroth-us.com