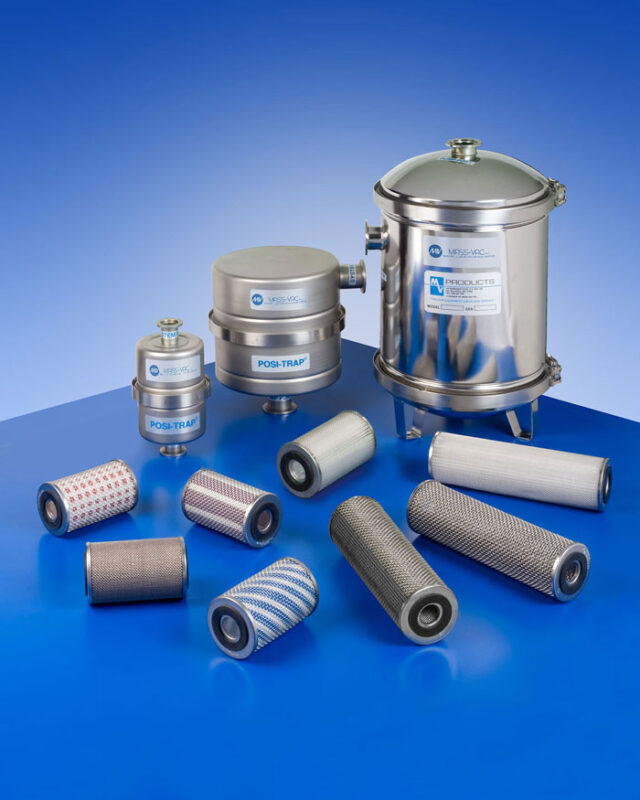 Several new specialized filter elements for their line of vacuum pump inlet traps that trap specific types of vapors and particulates are being introduced by Mass-Vac, Inc. of North Billerica, Massachusetts.
MV Filter Elements are designed for use in their line of PosiTrap® and MultiTrap® vacuum pump inlet traps that protect pumps from harmful process byproducts in applications with vacuum flow rates from 25 to 2000 CFM. New elements include AmoniaSorb® for ammonia and amines, MerSorb® for mercury vapors, and Potassium Permanganate to filter hydrogen peroxide.
Offered in 4.5" and 9" size cartridges, MV Filter Elements are suitable for adsorption, neutralization, and reactive filtration requirements. For particle filtration, stainless steel mesh, copper gauze, and polypropylene elements in sizes from 20- down to 0.1-micron are available. Depending upon the filter and application, they provide up to 99.9999% efficiency.
MV Filter Elements are priced according to filter type, size, and quantity. Price quotations are available upon request.
For more information contact:
Mass-Vac, Inc.
David Rolph, Marketing
247 Rangeway Rd. / P.O. Box 359
No. Billerica, MA 01862-0359
(978) 667-2393 FAX (978) 671-0014
www.massvac.com
Want to see more New Products, Click Here