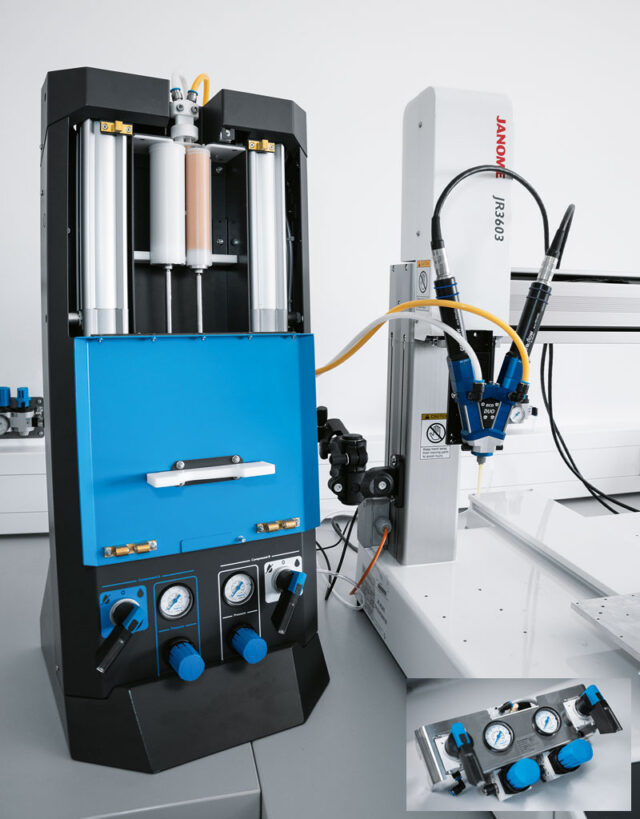 Festo controls help glue the smallest electronic components with pinpoint accuracy using cartridge applicator units.
ISLANDIA, NY, December 10, 2021 — Precisely gluing smartphone displays, applying thermal paste, or gluing micro cameras in place are examples of the adhesive processes that represent the dosing and dispensing competencies of ViscoTec, Töging am Inn, Germany (near Munich). Now the company has introduced cartridge applicators, featuring Festo pneumatic control modules, for exact and clean feeding of adhesives, pastes, and silicones of different viscosities.
ViscoTec Offers High-precision Two-Component Adhesive Dosing.
The eco-FEED and vipro-FEED DC are the latest devices for automated, even application of double-chamber cartridges. Double-chamber cartridges have the advantage of making it possible to work with media like adhesives, pastes, or silicones with two components of different viscosities. Many adhesive processes depend on these adhesive components being mixed in a precise ratio. The two applicator cylinders are moved independently of each other in this process, and the correct adhesive mixture is applied to the components to be glued.
Especially in the electronics industry, minute quantities need to be applied precisely and reproducibly to circuit boards, for example, or gaps need to be precisely filled on different electronic components, often using highly abrasive pastes. These application conditions make correct control and indication of the delivery pressure crucial.
"In our new double cylinder devices, we rely on a Festo control module with pneumatic automation technology," says Martin Stadler, Managing Director of ViscoTec. "The control module indicates pressure and controls delivery. It was developed in close cooperation with Festo, from the development of the prototype to the current production-ready device."
The control module is a ready-to-install device delivered by Festo directly to the ViscoTec assembly line. The control module monitors the pressure and quality of the adhesive application independently of temperature and viscosity. It enables volumetric filling. The module offers optical filling level monitoring as a standard feature. Customers have the option of an electric level monitoring version.
The double cylinder control module consists of a Festo VUWS valve, VHER hand lever valves, flanged pressure gauges, LR-D pressure regulators, fittings, silencers, and PUN tubing. "Having the module delivered ready for installation saves us time and effort, since we know we can integrate it directly into the cartridge applicator device without any adjustment issues. We could not do this without Festo world renown quality," said Christian Heidinger, Head of Product Management at ViscoTec.
The appeal of this new development is that the precision application of the adhesive leaves no rims of adhesive on displays or micro cameras and no adhesive oozing from the corners and edges on glued components in everyday consumer goods.
View a new video on the eco-FEED and vipro-FEED DC. For more information call: 770-422-4281 and visit the ViscoTec America website for an overview of solutions https://www.viscotec-america.com. For more information on Festo call 800-993-3786 and visit https://www.festo.us.