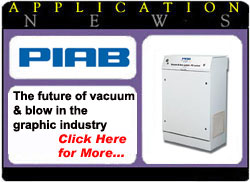 Greatly improving production efficiency  with a decentralized, compressed air system
As important deadlines approach, the machines in the printing shop quickly work toward the final project. The noisy mechanical vacuum and blow systems on the machines generate heat, creating an unbearable environment. Despite the heat and noise, the handling of materials needs to be fast and accurate as downtime can create major delays in production.
The challenge: to keep downtime, heat and noise to a minimum without sacrificing the speed and precision needed to promptly complete multiple projects.
The most efficient production process possible

In today's highly competitive market, the printing industry has to focus on efficiency as a means to success. End-of-the-line production can place additional stress on manufacturers. As the last step in print production, time is the most important factor in this fast-paced environment.
A printing or bookbinding facility that runs both quickly and smoothly is ideal. Because of time constraints, there is little room for error, and problems with vacuum equipment can cause major deficits in production at high costs to manufacturers.
Inefficiencies of centralized mechanical pump systems
Historically, the graphic industry has utilized vacuum and blow systems that rely on centralized mechanical pumps. With this system, a single vacuum pump is mounted remotely in the shop. This pump is usually dedicated to one or two machines, but may supply vacuum for the entire factory.
This centralized approach frequently employs mechanical pumps to produce vacuum. These pumps usually have an electrical motor as a power source. A mechanical pump often uses the same pumping mechanism as a compressor, except that the unit is designed so that air is drawn from a closed volume and exhausted into the atmosphere.
These mechanical pumps are often oversized to accommodate even the "worst case scenario," resulting in increased maintenance costs and energy consumption, along with a larger footprint. They also tend to generate a great deal of unnecessary heat and noise.
Increasing speed and precision with compressed air solutions
Productivity and work environment can be improved in the graphic industry by replacing mechanical vacuum pumps with multistage ejector pumps utilizing compressed air. By switching from a centralized to a more decentralized system that places compressed air pumps closer to the point-of-use, manufacturers are able to increase speed and precision.
Recognizing the industry's environmental concerns has also lead to the design of innovative vacuum pumps that reduce sound pollution and decrease heat.
Multistage ejector technology enhances performance

A system powered by compressed air, like PIAB's Vacuum and Blow System (PVBS), allows for precise paper handling throughout the printing process. Utilizing multistage ejector technology, PVBS raises productivity by shortening start-up times, minimizing production stoppages and improving the working environment.
PVBS employs a centralized configuration with an individually controlled and adjusted vacuum pump for each separate function in the printing press. Operators can easily set vacuum and blow levels to ensure maximum precision at higher speeds, with more effective subsequent treatment.
Vacuum pumps based on multistage ejector technology have virtually no moving parts. When compared to a mechanical pump with a rotary vein and motor, much less maintenance is needed. Simple filter changes are the only maintenance requirement and are quick and easy. Compressed air vacuum and blow systems also have smaller footprints than their centralized mechanical counterparts. This can aid manufacturers in using piping more efficiently, and lowers maintenance costs there as well.
The invention of COAX® technology allows for small, compressed-air-driven vacuum pumps to be placed directly at the point-of-use, with a single pump for each suction cup or gripper. This eliminates inefficiencies caused by line losses, significantly enhancing performance and saving energy. For example, the P6010 vacuum pump from PIAB provides up to 40 percent more flow than conventional pumps, while still reducing overall energy consumption.
Making the most of an existing set-up
Retrofit kits can be designed for equipment like printing presses and bookbinding machines as an ideal way for printers to make the most of existing systems. With a retrofit, one air compressor can be used to power individual vacuum pumps. PIAB's pumps require just one pipe running back to the compressor, compared with mechanical pumps, which can require multiple pipes. This saves both space and maintenance costs.
It is easy to efficiently install a more decentralized system with mounted pumps placed in the locations where vacuum is needed, running off of one central power source. This is just what Globe Die Cutting Products, a leading provider in die cutting and finishing services to the print industry, did in the U.S.
Too often, Globe Die Cutting had to repair or change out one of the mechanical pumps being used on the feed end of its large format machines.
"Besides being the cause of so much downtime, the pumps were also loud and generated a great deal of heat on the floor," explained maintenance manager John Appaluccio.
In addition to this, the company had purchased a large air compressor for future expansion, and needed a vacuum solution that would make the most efficient use of the compressed air so that additional machines could continue to be added. Globe Die Cutting decided to install the P6010 vacuum pump with PIAB's Cruise Control option (PCC). The PCC offers many advantages for leak-prone materials including the corrugated board Globe Die Cutting was handling, as it automatically maintains a pre-set level of vacuum to ensure a consistent and reliable vacuum level is provided at the suction point. This allowed the company to work at the lowest level of feed pressure possible.
Machine speed has also increased, as the new system has resulted in no missed picks since installation. While Appaluccio estimates that he spent 6-8 hours maintaining the previous mechanical pumps for each change out, the time spent maintaining the new pumps is roughly one hour. With no pump failures to-date, this has added up to a huge savings and dramatic productivity increases.
The company's compressor has been able to easily accommodate the new pumps running off of the compressed air supply. Appaluccio was also able to remove another mechanical compressor pump that was supplying blow off air since the air generated in the plant runs through a regulator at the feed point of the machine supplying the PIAB pump. This has eliminated two sources of heat and noise, resulting in a cooler, quieter work environment.
The future of vacuum technology is here

The integration of a COAX® multistage vacuum cartridge ejector directly into printing and binding machinery will help the graphic industry further meet the challenges of improving work environment while also increasing speed and control. By providing a custom decentralized vacuum solution that positions power exactly where needed, printers and binders can make maximum use of energy and increase speed by eliminating inefficiencies.For more information on COAX® technology, please visit www.coaxtechnology.com.