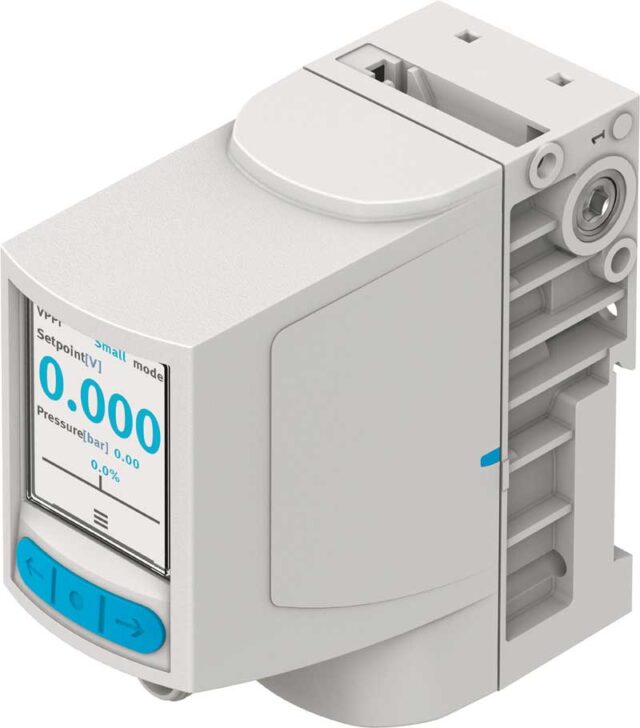 ISLANDIA, NY, July 13, 2021 — Festo recently introduced VPPI, a new family of proportional pressure regulators. Highly dynamic to 30Hz, VPPI offers precise and stable operation in vacuum applications as well as tasks up to a pressure range of 12 bar. Coupled with an IO-Link interface as well as a fieldbus connection for controlling the valves via a Festo CTEU valve manifold, VPPI represents the state of the art in proportional pressure regulation.
VPPI units are ideal for pressure regulation in dispensing, pressing, press-fitting, and testing in such industry segments as food and beverage, packaging, electronics, light assembly, automotive, and machining. Overall VPPI offers a range of operational features that give OEMs and end users greater flexibility compared to other regulators on the market.
These regulators have a flow rate of up to 1000 liters/min. Setpoint values rapidly change due to a powerful moving coil actuator. VPPI units operate quietly with low heat generation making them ideal for desktop and laboratory applications.
VPPI regulators can be ordered with or without a large liquid crystal rotatable display. Units with a display screen simplify and speed up programming and diagnosing faults. The screen is easy to read and large enough to display complete words, not just abbreviations. The elimination of fault codes means there is no need for personnel to refer to a manual, which saves time and improves throughput. Three large function buttons facilitate programming and fault diagnostics. These units are IP65 rated with M12, 5-pin electrical connection and G1/8 pneumatic port.
Pressure is regulated via an electronically defined value making use of cascaded closed-loop control of pressure/travel and current. A range of electrical signals can be used for control, including analog current or voltage signal, a digital pattern for adjustable setpoint values, or through pulse-width-modulation (PWM). The VPPI detects PWM signals generated by any controller.
The VPPI allows customers to regulate pressure dynamically and precisely by specifying a setpoint. Three preset performance levels are possible: for small volumes, large volumes, or continuous flow. In addition, a customer-specific preset enables users to achieve a suitable, independent control behavior. This pre-set value also speeds up the adjustment of the setpoint value, since the regulator adapts to the application.
VPPI is directly actuated in all sizes within the range, with no need for preliminary stages or pilot valves. This results in a rapid, repeatable dynamic response and virtually eliminates the noise and heat associated with 3/2 mechanical valves.
The ability to connect up to five VPPI units to a common pressure supply without the need of a separate manifold reduces system complexity, decreases space requirements, and enables the creation of separate pressure zones. DIN rail and other mounting options are available.
The VPPI family contains eight variants, with or without the display option. Combined with the wide pressure range and flow rates, this enables users to specify a single family of proportional pressure regulators for all their needs, simplifying purchasing and maintenance.
For more information on the VPPI proportional pressure regulator, visit www.festo.com/us.