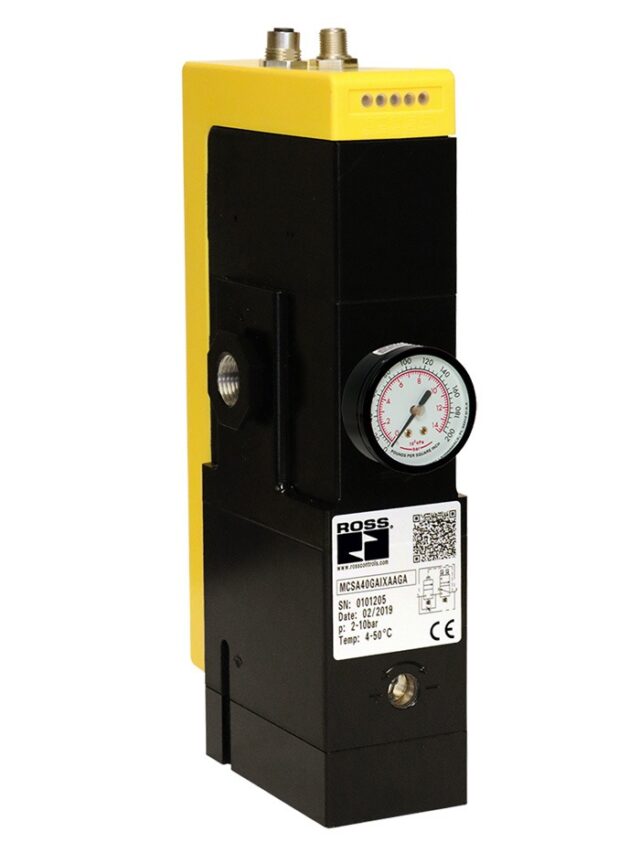 TROY, MI – October, 2019 – ROSS Controls® introduces its new internal monitored MCSE Series safety exhaust (dump) valves with EEZ-ON® S oft Start function for Category-4 / PL e, machine guarding applications.
The safety function of the internal monitored MCSE Series valve is to shut off supply of pneumatic energy, exhaust any pneumatic energy from downstream of the machine, and protect against unexpected starts.
The ROSS® MCSE Series safety exhaust double valves include the 3/2 normally closed function, dual poppet design, and is using the SERPAR® Crossflow fundamentals.
This new MCSE Series control-reliable double valve is designed for internal monitoring for saferedundant operation, with detailed failure diagnosis and display. The adjustable EEZ-ON® Soft Start function allows slower build-up of pressure during start-up and can be disabled if not needed. LED status light indicators aid troubleshooting signaling power on main solenoids, feedback on input signals, actuating status, and fault/no fault condition. Because of an internal safety relay, the valve also could take care of small safety control functions.
The MCSE Series valve is enhanced with a modular mounting design, allowing assembly with ROSS MD4TM FRLs for a convenient Air Entry System. The MSCE Series valves are offered in 1/2" port size, G or NPT threads.
Additionally, these pending BG Certified valves will be included in the SISTEMA Library data available for download from the ROSS website.
For more information on ROSS® MSCSE Series double valves with start capability, contact ROSS or visit ROSS' website.
ROSS CONTROLS 800-438-7677 (in the U.S.) or 248-764-1800 (outside the U.S.)E-mail: sales@rosscontrols.com www.rosscontrols.com
Want to see more New Products, Click Here