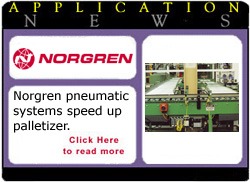 Littleton, Colorado, USA – 5 March 2003 When paper manufacturer Australian Paper needed to speed up its automated boxed paper palletizing system, Robotic Automation stepped in to help. They chose Norgren's Fieldbus II pneumatic valve systems and rodless cylinders, and developed a production line that is now substantially quicker than ever before.
Based in Australia, Robotic Automation is a leading supplier of robotic systems used in automated production lines. Its challenge was to replace Australian Paper's struggling system (which was unable to meet the rising demands of a single production line) with a fully automated system that could handle two high speed production lines. To ensure the pneumatics side ran as smoothly and reliably as possible, Robotic Automation called in global pneumatics expert Norgren to advise.
The solution consists of three Motman UP130 handling robots and includes conveyors for the boxed paper on two lines, pick-off stations, pallet conveying, pallet shuttles, motor control and system control. Unique to the system are the specially designed sliding fork and twin grippers forming the end effectors on the palletizing robots. These innovative grippers allow the picking of boxes to be doubled up, yet has the ability to place each one independently when required. Not only does this allow fast throughput but increases flexibility and handles fast palletizing of odd pattern stacks.
A key part of the system are Norgren's LINTRA rodless cylinders, which have the benefit of actuation within the overall length of the cylinder, and can also have the carriage anchored to allow actuation of the cylinder body. This provides a particularly neat solution to many applications where compact containment is desired. Full advantage of this was taken by Robotic Automation when specifying rodless cylinders as forks and again in the use of a pair of large LINTRA cylinders to transport fully loaded pallets to the out-feed conveyors.
Power to the grippers on the robotic end effectors is applied by Norgren ISO/VDMA profile cylinders. These cylinders feature magnetic pistons and flush mounting magnetic limit sensors for simple and convenient control feedback. Each in-feed conveyor uses pneumatic cylinder powered stops and pneumatic cylinder power turntables.
The size and spread of the robotic palletizing plant made the Norgren V22 Fieldbus II system an obvious choice for control. A major feature of the Fieldbus II system is that a distributed system can compromise up to 64 solenoid valves and outputs and 64 inputs from a single interchangeable Fieldbus node. For this project the chosen protocol was Profibus.
Project manager Steve Barker commented: "Once the equipment was on site, it was a matter of simply reconnecting terminals, which saved us days of time on installation and commissioning."
Further benefits are high reliability, improved and remote faultfinding and reduced downtime resulting from low maintenance and upkeep needs.
Norgren and Robotic Automation are currently developing a similar system where the chosen protocol is Devicenet. Due to the interchangeable node feature of Fieldbus II, Norgren can use a common design structure and implement a new system with a simple single change.