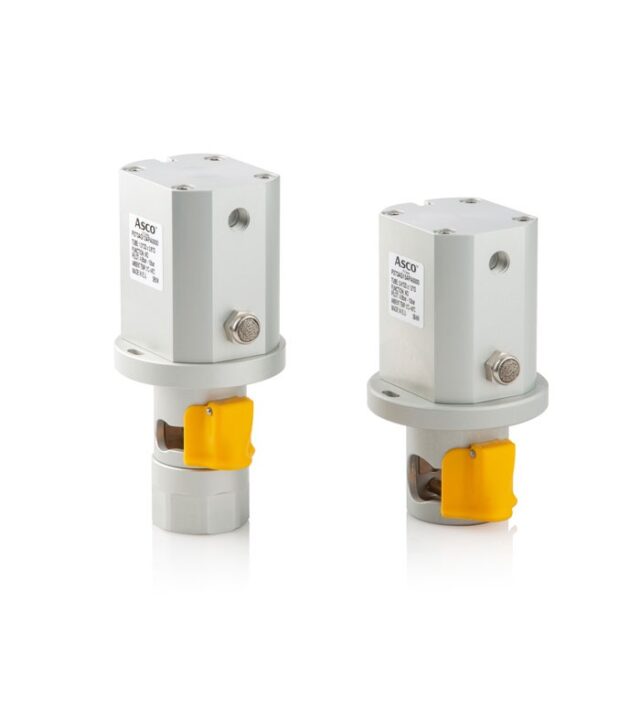 Emerson's new ASCO Series 273 Pneumatic Pinch Valve features an innovative design for improved tube retention and longer lifecycle—ideal for life sciences, food and beverage markets.
ST. LOUIS (November 8, 2019) – Emerson, a global leader in fluid control and pneumatics technology, has released its ASCO™ Series 273 Pinch Valve for the life sciences market. The new series expands Emerson's extensive pneumatic valve offering to single-use batch applications in bioreactor and fermentation tanks, tangential flow filters (TFF), chromatography skids and other drug discovery lab applications.
The Series 273 features an innovative pinching mechanism that remains firmly in place to provide better tube retention and eliminates breakage or damage to the soft tubing. It also includes a safety guard to prevent exposure to moving parts, as well as a manual override feature that lets operators insert or remove tubing without actuating the valve during unplanned batch switching. "Not only does this enhanced valve design keep operators safer, but it also accelerates setup, lowers costs and makes unscheduled maintenance very easy," says John Perry, vice president, global business development for Emerson's ASCO valves.
A pneumatically actuated pinch valve, the Series 273 makes no contact with process media, features a high lifecycle and provides a reliable pinching force over repeated use. Available in anodized aluminum and 316 stainless steel, the series is suitable for peroxide fumigation and includes a position indication option for valve on/off status feedback.
Series 273 Pneumatic Pinch Valve specifications include:
– 2-way normally open (NO) and normally closed (NC)
– Tube outer diameter (OD): 3/8″–1″
– Tube hardness: 55–80 Shore A
– Media pressure: up to 6BAR (90 PSIG)
– Air operating pressure: 4.8 to 10 BAR (70 to 145 PSIG)
– Valve position detection: open or closed
The Series 273 targets single-use batch applications in the pharmaceutical and biopharmaceutical markets, but is also suitable for food and beverage production. The pinch valve can be actuated using ASCO™ Series 501 or Aventics™ AV Series pneumatic valve manifolds and ASCO 580 CHARM electronics, which seamlessly integrates into DeltaV™ distributed control system. For additional information, please visit https://www.emerson.com/en-us/news/automation/1911-asco-pneumatic-pinch-valve.