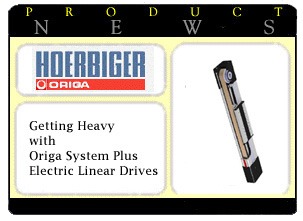 Electric Linear Drives
Hoerbiger-Origa highly successful range of modular electric linear drives has been further expanded to include high capacity units for heavy-duty applications. The new OSP-EBHD, heavy-duty belt driven linear p actuator capitalizes on the established benefits of the existing range, providing extremely compact dimensions, a modular construction and p exceptional application flexibility.
Featuring a rigid aluminum profile and a fully integrated roller-guide, the heavy-duty unit has high load and bending moment capacity in all plains, which eliminates the need for secondary guidance and enables the unit to be used as a structural element within  a machines design.
High Capacity
Matching the high load capacity, the unit also produces a high action force, which is up to 20 times more than the standard belt drive, e.g. 3120 N for the size 50mm. The high maximum operating speed is 10m/s for all sizes.
All bearing and actuating elements are fully enclosed which provides both a clean, aesthetic appearance and, more importantly, a high level of protection against dust and other contaminants. For this reason, the OSP-EBHD is particularly tolerant or arduous operating environments.
To ensure the most compact dimensions, the BHD features an extremely low profile carriage and a hollow drive shaft, which enables the close coupling of motors and gearboxes.
Integrated Planetary Gearbox
For applications in which gear reduction is necessary, HOERBIGER-ORIGA offers the option of a newly developed planetary gear, which is fully integrated in the drive end housing. Available with three standard ratios (3:1, 5:1, and 10:1), the state of the art system features very low backlash and provides users with a highly compact and rigid solution.
The new range of OSP-EBHD actuators is available in three sizes 25, 32 and 50mm and is produced in any stroke length up to 7000mm to suit individual
For complete system solutions the series is available with a wide variety of motor and control packages to suit individual customer needs.
Multi-Axis System
A wide range of multi-axis connection parts, such as adaptor plates, profile mountings and drive shafts together with the OSP modular mountings and accessories simplify design and installation engineering.
Bi-Parting Version
The highly adaptable design includes a bi-parting version, which provides perfectly synchronized N bi-parting movements.
Application Examples
Typical applications for the OSP-EBHD heavy-duty belt drive include:
∙  Pick and place movements for handling and assembly systems
∙ Pusher and lifting conveyor applications
∙  Gantry handling systems
∙  High speed cutting and reciprocating applications
∙  Industrial N multi-axis systems in general
BENEFITS:
∙C  Accurate path and position control
∙C  High force output
∙C  High speed operation
∙C  High load capacity
∙C  Easy installation
∙C  Low maintenance
∙C  Ideal for multi-axis applications