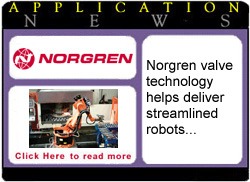 Pneumatics expert Norgren has helped the global specialist in industrial robots, KUKA, deliver quick and effective end-of-arm tooling solutions for its customers.

KUKA understands that for fast implementation and smooth changeover to new or modified production lines, it is essential to be able to install and set up the end-of-arm tooling as quickly and efficiently as possible.

Historically, one major area of concern was so-called "Robot Dressing", the mass of cabling and tubing around the robot. In the automotive industry, where manufacturing plant consists of numerous cells involving a large variety of handling tasks spread over large areas and distances, the industrial robot is dominant. Here "Robot Dressing" can be a major headache.

Combining KUKA's innovative integrated energy supply harness system, with Norgren's compact valve islands, the installation benefits from a greatly reduced amount of cabling and tubing over the whole robot. In this application, automotive engine con-rods are loaded and unloaded in a continuous process for precision machining and grinding. Each robot is fitted with Norgren's VM10 Fieldbus valve island fitted directly to the arm end. Grippers and other manipulative actuators associated with the end-of-arm tooling and their positional sensors are connected directly to the valve island thereby dramatically cutting back on cabling and tubing.

Use of Norgren's VM10 valve islands with KUKA's harnessing system provides a streamlined and effective solution. The complete end of arm tooling requires just single compressed air, electrical power and Fieldbus communications connections. Quick and efficient dressing of the robot is allowed, resulting in shorter down times, increased efficiency and lower costs.

Ideally suited to this type of application, the VM10 valve island is small, has a compact shape and is low in mass. The high flow spool design offers plenty of performance allowing smooth powerful action from the most complex action sequence. The IP65 rating provides proof against the local environment typically found around metal machining processes.

Fieldbus versions of the VM10 are available in a variety of off the shelf protocols from which Interbus S was selected for its compatibility with long distances (up to 3000m) and standards of the automotive industry. Other Norgren products including the 18D pneumatic to electric pressure switches were supplied for this comprehensive packaged solution.

With headquarters in Augsburg, Germany, KUKA is an IWKA group company, probably the second largest supplier of engineering solutions and flexible production lines for the automotive industry worldwide. KUKA UK is based in Halesowen, West Midlands, and is one of the UK's foremost providers of industrial robots and turnkey automation solutions for a variety of applications – including automotive, industrial manufacturing and general industry. It also provides a comprehensive range of support services including 24-hour technical back-up, servicing, spares, training and remote Internet diagnosis.

Its robots have featured in an action sequence in the new Bond film "Die Another Day," and its products are used in the white knuckle ride RoboCoaster, which can be seen in a growing number of family entertainment centers and theme parks worldwide.