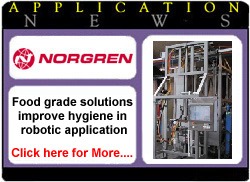 Food grade pneumatic components from Norgren are at the heart of the latest robot from SFK-Danfotech that can process 6 pigs per minute.
Animal slaughter for food is a subject that most of us never think about when we sit down for a large breakfast or a tasty snack. It is of course a hugely important industry. Traditionally it is labour intensive involving many heavy, monotonous and repetitive handling tasks. Recruitment can be difficult particularly in encouraging young people to make it their career. As with many industries however, technology is making great strides in transforming the workplace. Robotic and automated systems are taking the burden of the hard work. They are increasing production, improving hygiene and create a better working environment.
Leading-edge technology
In Denmark the slaughtering and processing of pigs is a major industry. To cope with the increasing market the Danish Crown are commissioning a new slaughterhouse due to be in production at the beginning of 2005. Three processing lines will provide a capacity to pass through 75000 pigs in a 5-day Monday-to-Friday week. This state-of-the-art plant is highly automated using leading-edge technology from the finest specialist machinery manufacturers in the business.
Robots from SFK-Danfotech
There are many companies in Denmark with long traditions in the manufacture of machinery and equipment for use within the slaughter industry, and one of these is SFK-Danfotech in Aalborg. With decades of experience in the pig slaughtering industry, SFK-Danfotech have a high reputation for the manufacture and development of automated machinery and the supply of turnkey solutions worldwide. Pigs can vary greatly in size and shape which makes automatic handling of them a challenging task. In one of the latest robots designed and developed by SFK-Danfotech, automatic measuring and data processing set the crucial parts of the machine exactly. With optimum positioning, precision removal of each pig's internal organs is swiftly carried out. At handling rates of 6 pigs per minute this amounts to more than 30 tons of internal organs per machine per day. Automatic tool sterilisation between processes sets a new standard to plant hygiene.
Close cooperation in automation
Norgren Denmark have been supplying pneumatic components and working in co-operation with the Danish machinery manufacturers from the very early days of automation. Many of Norgren's product lines have been designed and developed in specific response to the evolving needs of the food processing industry. The robot described is one station in a linked chain of processes that make up the entire integrated processing plant. The pneumatic components it uses include PVA/8000/M series food grade cylinders, KM/55001/M series stainless steel cylinders, and V22 system valves controlled through a VEII Profibus DP Fieldbus communications installation. Compressed air preparation and control is provided by Olympian Plus, R27 precision regulators and 31D electronic pressure switches. For cold and hot water is used Norgren Buschjost series 84520 stainless steel angle seat valves.