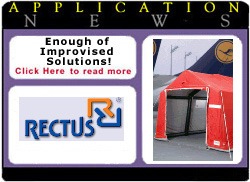 Enough of Improvised Solutions!
Coupling with Special Thread Replaces Various Adapters at once
The little things often cause the biggest problems! Lack of suitable standard parts often means that small connections become monstrous constructions. Dr. Lange – internationally known under brand name LANCO – has had enough of making do with shabby compromises for inflating their emergency tents and decontamination showers. The result: a single, specially threaded RECTUS coupling now replaces the old "improvised" solution of five heavy accessory components.
Inflatable emergency tents are ready for use in two to three minutes – a decisive advantage over traditional standard tents. Since September 11, anxiety over terrorist attacks has further increased international demand for this type of emergency equipment: just recently, Dr. Lange GmbH & Co. KG (a German company) supplied around 300 Japanese fire brigades with air-based decontamination showers. Lanco tents have a long tradition in disaster control. For 50 years, this market leader has been supplying to fire brigades, rescue services, the German Border Police, national and international aid organizations, and various NATO forces. The time factor for pitching tents is becoming ever more significant! Nicolas Abé, LANCO manager, highlights that "in the event of a terrorist attack or environmental disaster, every second counts for treating the victims quickly and effectively".
Whether field hospitals, emergency shelters, or decontamination showers, construction always follows the same principle: the supporting structure is a hose framework filled with compressed air. Inflation is generally effected using two compressed air canisters – with an excess pressure valve to prevent overfilling.
The Long Adapter Piece – A Real Nuisance
As quick as inflating the tents may be, the connecting equipment for the compressed air canisters has previously been extremely bulky and unwieldy: "due to lack of suitable standard components, we had developed a kind of improvised solution," explains Nicolas Abé. The crucial aspect was the large difference in diameter between the connection point for the tent thread and the connection on the compressed air canisters. In order to bridge this difference, several stages of different adapters/reducers were required. Finally, the hose was coupled onto the two compressed air canisters via a two-way splitter. Technically, the system worked without a problem, although the large accessory parts were both extremely unsuitable for use in disaster control and frequently in the way of the helpers.
Unsatisfied with the construction, LANCO looked for a new solution. The aim was to replace the long adapter piece – including coupling – with a single, new and manageable part with sufficient throughput. Together with RECTUS – international production leader for quick connect couplings, based in Nussdorf near Stuttgart – a made-to-measure solution was developed: a single, specially threaded coupling that can be connected directly to the distributors, instead of the 30 cm of adapter hoses required previously. "The compact and light structure makes the new component ideally suited to disaster control", says RECTUS sales representative Thomas Mayer. For Dr. Lange GmbH, there is a further important advantage, as manager Nicolas Abé points out: "previously, we had to buy all the components individually and assemble them ourselves; now, we can easily order the complete system from one supplier".
Proven Couplings Technology
The basis for this individual solution is the 26 KA standard RECTUS coupling, which has a proven track record for thousands of applications. This is a highly robust and durable series. As emergency shelters are erected in the wind and weather, it is best if all coupling parts are made of non-corrosive materials. Further, the closed sleeve prevents dirt from getting inside the coupling. The pressure of around 10 bar when filling the tents from the compressed air canisters is also no problem. The coupling type used is designed for a standard maximum operating pressure of 35 bar, as well as being reliably resistant to temperatures of between + 100 and – 20 degrees Celsius. This is another important criteria for inflating the tents, as Thomas Mayer explains: "rapid emptying of the compressed air canisters causes the components to become very cold and icy".
"Overall, I can report that RECTUS has provided the optimum solution to our problem: our emergency tents can now be inflated faster, more easily, and more safely", is manager Abé's satisfied concludes: "for us, this is a decisive advantage, as, in the event of a disaster, every second counts".