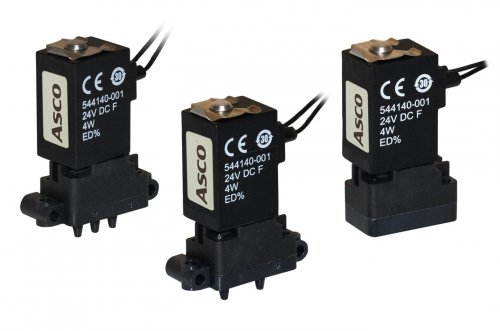 ASCO Series 062 Rocker Isolation Valve 16mm interchangeable design enables optimized customization of compact fluid-handling manifolds, maximizing functionality and flexibility
Emerson today introduced the ASCO Series 062 Rocker Isolation Valve designed especially for today's most demanding fluid control manifolds in the clinical laboratory such as hematology and immunoassay analyzers, sample preparation and pre-analytical, as well as DNA sequencing instruments. The valves designed with 16mm compact size allows for easy integration into complex fluid-handling manifolds, resulting in a reduction in footprint, weight and power. It also offers two-way and three-way functionality, which maximizes flexibility and versatility.
ASCO rocker isolation valves control neutral and highly aggressive liquids used in nearly any type of analytical instrumentation. The easy to flush special rocker mechanism, combined with a separating diaphragm, prevents heat transfer to expensive in-vitro diagnostic reagents and eliminates the potential for sticking and clogging of the valve seat. Hermetic separation of the control mechanism prevents particulate contamination caused by the friction of moving parts, ensuring maximum purity of liquid samples.
The Series 062 valves have a smaller internal volume, reducing contamination risk, maintenance requirements and potential reagent waste. The valve also offers pad-mount and barb-fitting mounting options making installation easier, as well as a long lifetime of 10 million cycles that increases instrument reliability.
"The new ASCO series 062 valves offer reliable and precise fluid control in a wide variety of analytical instrumentation and medical device applications," said Sven Richter, vice president of analytical and medical at Emerson's Automation Solutions business. "We understand that our original-equipment manufacturer customers are under pressure to get products to market quickly, while improving production and cost efficiencies that allow them to succeed in competitive markets. That's why we bring this new Series 062 product to our customers."
https://www.emerson.com/en-us/news/automation/21-10-asco-series-062