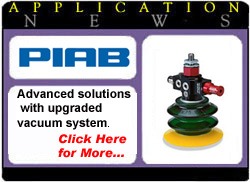 Background
One of the world's leading suppliers of automotive body shops provides integrated information technology for a variety of car production engineering applications. Recently, the company wanted to upgrade its existing vacuum system in order to reduce energy consumption and provide its customers with optimum quality service.
Solution
The company upgraded its existing vacuum system with PIAB's VGS™3010 vacuum gripper system, which includes a COAX® vacuum cartridge integrated with a DURAFLEX® suction cup into a single unit. Also installed was PIAB's VacTrap™ check valve, which features a blow-off function to quickly and reliably eject the parts being handled while also preventing the dropping of handled parts.
Result
The new vacuum solution offers an efficient, reliable and flexible system. The company expects to experience a return on investment both in terms of money saved and increased energy efficiency.
Reliable technology
Modular solutions
Increased flexibility