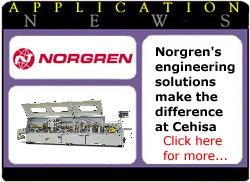 As one of the world's leading experts in the field of motion and control technology Norgren has been selected to supply a wealth of innovative engineering solutions to Cehisa.
Based in Spain and with representation through out the world, Cehisa is a leading supplier of edge banding machinery for the wood working industry. Cehisa's range of machines combines simplicity of design with heavy-duty reliability. Ideal for small and large wood machine shops, the range offers the benefits of quality, performance and cost-effective pricing. It is important to Cehisa that they partner with companies that keep on delivering the same benefits to them as they deliver to their customers.
During the early design stages of their latest machines, Cehisa were looking for a pneumatics solutions provider that could demonstrate a flair for innovation combined with a tried and tested reputation Offering engineering solutions that are making a difference in many industry sectors worldwide, Norgren was the natural choice for Cehisa.
The Cehisa Compact series of edge banders takes advantage of the many features that Norgren's VM10 valve island has to offer. Designed to be utilized in applications that demand high performance, the VM10 is at the heart of the machine delivering the high flow rates combined with modularity that this application called for. Installation times are also reduced through the use of VM10's integral push-in fittings thus helping to keep the time to market to a minimum..
A particular specialty of Norgren is the supply of custom solutions tailored to customers' exacting specifications. The 400 series edge bander takes advantage of this specialty through the use of a cutting cylinder that was specifically designed for Cehisa. Operating in a similar style to an impact cylinder the unit is used to cut plywood wedges. The winning factor for this solution was its excellent performance characteristics combined with competitive pricing. This series also called for a number of highly reliable directional control valves and the V61 series from Norgren was the ideal choice due to its solid tried and tested reputation. Common to both machines is the use of Norgren's air preparation equipment which ensure high quality air supply.
Cehisa operate in a highly competitive market place. Solutions that are incorporated into their machines have to meet the desired specifications and have to be competitively priced. Norgren was able to meet their specifications both from a technical and cost point of view and were able to deliver competitive advantage to Cehisa.