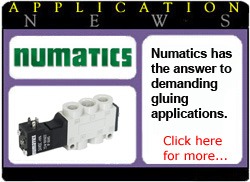 For demanding gluing applications that require a more
reliable, repeatable valve solution. Numatics has the answer
in our new 92280-1 High-Speed Glue Valve. With a response
time of 0.006 seconds and the ability to withstand
temperatures up to 194° F (90°C) this innovative design
meets your application requirements better than any other
product offered today.
• Response Time up to 0.006 Seconds
• Repeatable
• Reliable – Anticipated Service Life in Excess 100,000,000 Cycles
• Withstand Operating Temperatures up to 194° F
• Field Repairable