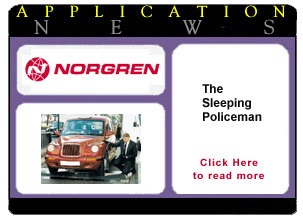 A dynamic, revolutionary new sleeping policeman traffic hump actuated by a specialized Norgren valve is undergoing road trials in the City of London.
The new traffic hump, the Dunlop Transcalm, is the brainchild of inventor Graham Heeks, who has been working with Norgren for the past four years to perfect the valve mechanism. The valve reacts to impact and speed, retracting the hump for emergency vehicles, but staying in place for ordinary traffic.
A mix of circumstances led Graham to come up with the idea. He was particularly concerned that traffic humps were adding vital minutes to emergency vehicles' response times. "I just felt something had to be done; people were driving too fast and traffic calming had a role to play; but at the same time the emergency services were simply trying to do their job," said Graham.
So began a seven-year quest to perfect a retractable traffic hump that responded to the type and speed of the vehicle crossing it. He started with three elements, a hump mold, a valve and a trough to house the unit under the road."I had to effectively develop a vehicle recognition valve, which is at the heart of the 'friendly bump'. It was when I was introduced to Norgren, whose products I'd used in my job, that things gathered pace," said Graham. "Norgren gave me the valve technology to address the market. They were always enthusiastic and have never ever lost interest. The work with the production team over the past three years has been integral to the valve's evolution.
Trials of the hump were carried out on the perimeter road at Norgren's Lichfield headquarters in the UK. One of the main technical obstacles to overcome was to get the valve to react in harmony with the impact on the rubber of the hump. Painstaking work has resulted in a specialized valve just 1.5″ by 1.5″ that controls the rate of deflation of the traffic hump and its deterrent profile.
Once the profile, molding technique and valve had been perfected, the team encountered another problem. When the road surface has been dug up and re-laid, for example for pipe or cable laying, it affects the operation of the system. To deal with this variable, the team created its own road surface that is now part of the overall installation. Highway consultants Pell Frischmann and Dunlop GRG were involved as project sponsors by this stage. The road trials on Puddle Dock, in the City of London are the fruition of one man's vision and dedication, and the belief and support of three industrial sponsors.
Ease of installation and maintenance are a further benefit of the system. Transcalm's manufacturers are hoping the concept will have global appeal and be a major contributor to road safety.