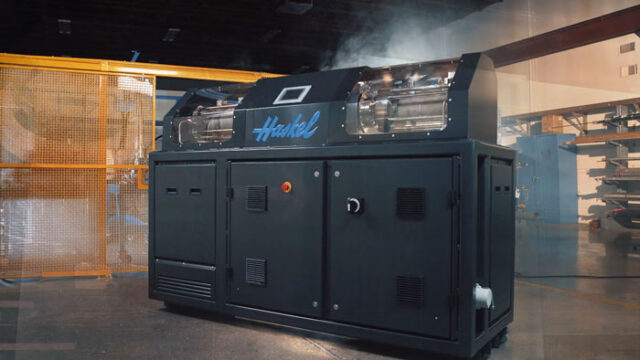 New electric-powered units offer high pressure, high flow rates along with advanced remote monitoring capabilities.
Burbank, CA (February 6, 2020) – Haskel, a global leader in high-pressure solutions, is proud to announce the launch of its newest technology – a servo-electric driven gas booster. The gas booster, named Q-Drive, establishes a new category of advanced electric gas boosters and promises to provide high flow rates up to 6,500 psi (450 bar).
The Q-Drive advanced electric gas boosters eliminate some of the inherent limitations with traditional pneumatic and hydraulic gas boosters, such as loud operation and lower energy efficiency. Designed with smart, Industry 4.0 technology, the gas boosters come with remote monitoring and predictive maintenance capabilities and achieve low noise levels under 80 decibels.
The electric-powered units have considerable appeal for applications ranging from gas assist injection molding, gas leak testing, hydrogen fueling, and many others. Electric gas boosters also open new possibilities for the food and beverage, cosmetics, and pharmaceutical industries that require a high-pressure, high flow rate gas for supercritical CO2 extraction.
"Compared to pneumatic gas boosters, advance servo-electric powered units use one-third of the energy and offer flow rates 10 to 20 times higher," says George Volk, Global Director of Sales and Business Development at Haskel. "Electric units also provide energy savings due to lower cooling requirements."
Dave Gordon, Haskel's Global Product Manager states, "We have shown prototypes of Q-Drive to some potential customers and they were all very impressed by all the features and capabilities of the new gas booster. Q-Drive solves gas handling issues that have never had good solutions before."
About Haskel
Haskel, a brand of Ingersoll Rand, is the high-pressure solution provider for critical applications in hydrogen, aviation, defense and aerospace, oil and gas, and other industries. With more than 70 years of expertise, Haskel's leadership in the market is built on a reputation of safety, reliability and the highest quality. Haskel is committed to providing high-pressure pumps and gas boosters that fit customer needs and market demands.