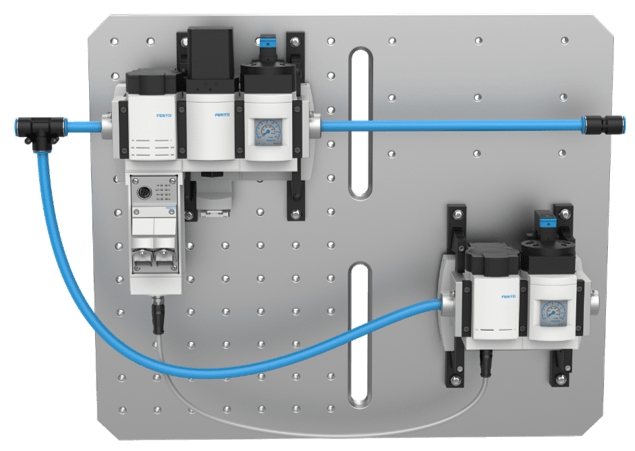 The new C2M provides soft start capabilities, while the D2M offers a non-fieldbus economy option.
ISLANDIA, N.Y., December 8, 2020 — Festo has expanded its intelligent pneumatic energy savings platform beyond the MSE6-E2M (E2M) with two new modules – the MSE6-C2M (C2M) and the MSE6-D2M (D2M). These modules can pay for themselves in less than a year with the energy savings accrued. The platform provides actionable information that supports quality production.
The modules in this platform automatically shut off the air supply to a machine when in standby mode, thus reducing energy consumption. They monitor system pressure and flow information in real time and enable faster response to compressed air leaks. These units flow up to 5,000 liters of compressed air per minute; program easily; connect to Festo MS series air preparation units, including the MS6-SV safety valve; and are suitable for new as well as existing machines.
The new C2M is an intelligent combination of a proportional pressure regulator, on/off valve, sensors, and fieldbus communication. It monitors the flow rate and, when production is not taking place, it automatically shuts off after a defined idle time. At the same time, the module prevents the system pressure from falling below a defined standby pressure level. The lower pressure level saves energy without completely depressurizing the system, which is essential for soft start and safety functionality.
The proportional pressure regulator also allows the user to define normal operating pressure. This feature means there is always control over the operating pressure and an adjustment point is eliminated on the machine, helping with tamper-proofing and with automating changeovers.
The C2M can be fully integrated into the machine network via PROFINET and also through the Festo CPX platform, which is compatible, as is the E2M, with major fieldbus protocols, including Ethernet/IP and EtherCAT.
Similar to the C2M, the D2M intelligent module monitors the compressed air supply and automatically shuts off the compressed air during breaks in production. Unlike the C2M, the D2M completely depressurizes the system. The D2M also provides leakage detection and process data acquisition for condition monitoring, as do the other energy saving modules.
OEMs and end users that do not require a fieldbus node for the energy savings unit will find the D2M an economical solution. This module integrates into the control architecture via the fieldbus node of the C2M or the CPX. Plug-and-play combinations of the D2M with a C2M or CPX can monitor the energy efficiency of two separate compressed air networks simultaneously.
Information from the C2M, D2M, and E2M give operations personnel comparative data over an extended period. Information on flow rate, air consumption, and pressure are continuously available. Data can help personnel determine historical trends on consumption, the amount of air consumed per product batch, and pressure and flow at the time of a malfunction or bad batch of product.
For more information, call 800-993-3786 and visit www.festo.us.
About Festo
Festo is a leading manufacturer of pneumatic and electromechanical systems, components, and controls for process and industrial automation. For more than 40 years, Festo Corporation has continuously elevated the state of manufacturing with innovations and optimized motion control solutions that deliver higher performing, more profitable automated manufacturing and processing equipment. Connect with Festo: Facebook, LinkedIn, Twitter and YouTube
Want to see more New Products, Click Here