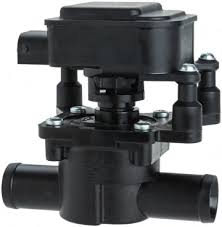 AUBURN, Washington (February 24, 2020) – IMI Precision Engineering will showcase its Battery Conditioning Valve at the 2020 Technology & Maintenance Council (TMC) Annual Meeting & Transportation Technology Exhibition in Atlanta, February 24-27. Conference attendees can stop by booth 3134 to see how the 3-way motorized valve proportionally distributes coolant to ensure lithium-ion batteries are operating under optimum thermal conditions helping to improve overall safety, operating conditions, and lifetime of the battery.
Unlike on-off solenoid valves, the IMI Norgren Battery Conditioning Valve utilizes motorized ball valve technology and offers excellent flow characteristic with proportional diversion of coolant based on the operating conditions of the vehicle. Low flow resistance helps to reduce or eliminate water hammer in the system and with extremely low energy consumption, 2.5 watts compared to 10 watts of a standard solenoid valve, the IMI Norgren Battery Conditioning Valve has zero draw holding current to preserve power and maintain compliance with emission requirements which are very important considerations for electric vehicles. The valve is electrochemically neutral offering corrosion-resistance and has met several compliance standards including E1 10 R –036112, ECE-R10, compliant to Daimler DC10842, Interference immunity acc. to DC10614, ISO 7637-2, and is IMDS listed
Developed specifically for commercial vehicle applications, the IMI Norgren Battery Conditioning Valve has been validated and approved by several European OEMs and has been reliably used in the market since 2006. The light-weight valve's reliability and robustness has proven successful in the marketplace with over 300,000 units currently in operation and is already being used in onboard battery packs worldwide. For electrical vehicle fleets, the Battery Conditioning Valve provides an economical and cost-effective solution, offering precision, longer battery life, and overall improved electrical performance.
"We are excited to be supporting the North America electric vehicle market by providing solutions that allow our customers to evolve and optimize the performance of their electric vehicle offerings. "states Rachel Lahr, Director of Commercial Vehicle Sales, Marketing, and Customer Service for IMI Precision Engineering.