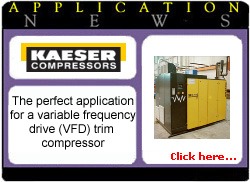 Kurdziel Industries, Inc., is a global supplier of iron counterweights and steel castings, forgings, and fabrications. Their flagship foundry is located in Rothbury, MI and covers over 150,000 sq. feet. Early in 2002, one of their air compressors failed and Kurdziel recognized the need to improve the air system's overall energy efficiency. The plant's existing system consisted of three 150 horsepower, and one 200 horsepower rotary screw compressors with an average power consumption of 350 kW. While the system met their air demand requirements, Kurdziel identified the need to improve their cfm per kW performance.
Plant Electrical Engineer, Jim Urquhart knew the plant's varying load of 300-2400 cfm at a constant pressure was the perfect application for a variable frequency drive (VFD) trim compressor. Making it his goal to obtain the most energy efficient unit on the market, he contacted five vendors representing each of the major VFD compressor manufacturers.
Eric Bush, Sales Engineer for Air Components & Engineering responded as the authorized representative for Kaeser Compressors, Inc. Eric immediately issued a challenge to all competitors to beat the performance curve of Kaeser's Sigma Frequency Control (SFC) rotary screw compressor. He knew that Kaeser's SFC 110 is a proven performer, and its direct drive motor / oversized airend package is designed to offer the highest efficiency over its entire speed range of 20-100%.
Eric presented a proposal including the SFC 110's performance data and efficiency curve to Kurdziel's maintenance team including Urquhart and Plant Engineer, Frank Zarate. Kurdziel's existing system had a mass flow meter and pressure transmitter installed on the system to monitor the plant air flow and pressure, plus they knew exactly what the existing input kW was. Urquhart and Zarate were able to graph all of the proposed units to make a comparison. When it came to Kaeser's SFC, Urquhart and Zarate both agreed, "It was just so very efficient."
Citing also that the SFC uses an AC motor and does not use the motor service factor, the Kurdziel team was influenced by another Kaeser feature. "We liked the fact that the SFC was a real direct drive unit, and has low rotational speed – not 3500 rpm like other models," commented Urquhart.
After a check on several references from other satisfied Kaeser SFC end users, the choice was confirmed and the decision to buy Kaeser was made. Kurdziel and Air Components & Engineering installed the SFC 110 as a trim compressor to the other four units, along with a sequencer.
Once the SFC was online, system performance immediately improved. The changing flow requirements were met, the system pressure was a constant 95 psig – as required – and the cost savings began. The system now requires only 275 kW per hour average instead of the previous 350 kW. Based on Kurdziel's average operational hours, and a rate of $.056 per kWh, their monthly savings total $4,890. With savings like that the SFC 110 will pay for itself in a very short period of time.
Kurdziel's optimized system has been running for some time now. Urquhart, Zarate and the plant maintenance team are still thrilled with the continued energy efficiency. They definitely achieved their goal in obtaining the most energy efficient compressor available, plus they are enjoying the many benefits of increased operational reliability and overall system performance.