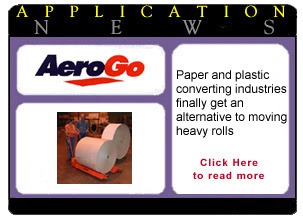 The ergonomically designed Adjustable Rollmaster utilizes Aero-Caster® technology to safely float
heavy paper rolls on a cushion of air providing omni-directional movement: precise positioning; reduced risk of strain injuries; and the versatility for one operator to move multiple paper/plastic rolls of varying sizes.
Seattle, Wa., July 26,2002 AeroGo, Inc., announces their latest industrial
load moving equipment, the Adjustable Rollmaster. The new and innovative roll
handling equipment allows one person to safely handle and position heavy paper
rolls of varying diameters. The innovative Aero-Caster technology, which is
powered by compressed shop air, floats the heavy roll on a nearly frictionless
cushion of air to reduce operator fatigue/injury and increase productivity.
The Adjustable Rollmaster is available from AeroGo's worldwide
distributor channel.
###
For additional information contact;
Hal Williams
AeroGo, Inc.
ph 2065753344
fax 206-575-3505
www.aerogo.com