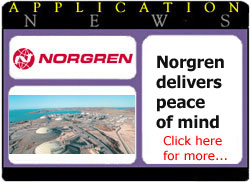 Faced with sticking valves in a hazardous environment, Woodside Energy in Australia turned to Norgren and were rewarded with peace of mind and the correct solenoid valves for a demanding safety system application.
Woodside Energy in Australia is a leading company in the exploration, development and production of oil and natural gas resources. Their successful major development of the North West Shelf Project places them as a substantial supplier of energy with further large potential for growth in the home and Asian export energy markets. At their 200 hectares LNG (liquid natural gas) processing plant at the Burrup Peninsula, in the inhospitable north of Western Australia, they are expanding the plant with its fourth LNG production train. With an initial commitment of $2.4 billion the fourth production train is approaching completion and will be the largest single LNG production train in the world. Its output will add a further 4 million tonnes of LNG production each year. Future commitment of $7.8 billion is expected for expansion of onshore processing and pipelines.
Within a LNG processing plant there are many large process valves that use pneumatically controlled actuators to open and close them. For the safety shutdown system, it is imperative that operation of key process valves and their systems are totally reliable in their shut off action. Pneumatic solenoid valves are used to control the large process valves' actuators. These solenoid valves are likely to be located in harsh and hazardous environments, where there is an explosive atmosphere risk. It is hot, often in excess of 40O in the shade and dusty.
Briefed with the facts, the technical applications experts at Norgren were able to quickly specify a solenoid valve from the Herion range, series 24011, fitted with an EEx me II explosion proof coil and designed for operation in these extreme conditions. In co-operation with Woodside the Norgren engineers were further involved with the design of mounting hardware to allow direct replacement of the installed solenoid valves. From the initial resulting order of 55 pieces, the valves have successfully proven themselves over the past few years. Further orders have now been received for new plant, underlining the confidence afforded by accurate selection and quality manufacture. The Herion 24011 series valve from Norgren is now specified as a site standard.
From a comprehensive range of process control valves from Norgren, the 24011 series is a direct solenoid actuated 3/2 poppet valve. With an orifice size of 5mm diameter excellent flow is assured. Solenoid coils are available in a choice of voltages and protection classes. Suitable for outdoor installation. The body selected for Woodside is constructed of 316 Stainless Steel, although the valve is available in many options. Internal parts include a stainless steel spring for corrosion protection and long life .A version with a NAMUR interface is an ideal choice for direct mounting to compatible actuators. For use with compressed air or aggressive gaseous and liquid fluids from 0 to 10 bar, the valve is truly wide ranging in application.