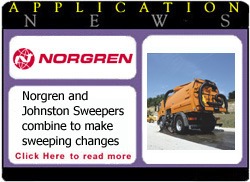 When Johnston Sweepers, the world's leading supplier of road sweeping vehicles, were looking to improve both the efficiency and design of its systems locker they were looking for a partner that could deliver the all important competitive advantage they needed.
Operating in a highly competitive industry keeping the all-important time to market to a minimum is critical for Johnston Sweepers. With the impending launch of its new modular 'V' series road-sweeping vehicles, Johnston Sweepers needed to improve their production processes, basically to improve the speed of build, thus improving delivery times to give them a competitive advantage. One area that they identified for possible improvement both in terms of engineering and speed of manufacture was within the systems locker.
The new systems locker needed to be fully customer configurable so that it could be tailored to match individual customer requirements. Within the old design configurability was difficult and lengthy in terms of time. The new system needed to adapt a "plug and play" principle. Connections to match the specification need to be made quickly to ensure minimum production cycle times basically plug in plug out. Efficiency, simplicity and effectiveness were all key words when the specification for the new locker was formalized. The new vehicle also operates within many different environments that can be a threat to the vital components contained within the locker. Johnston Sweepers therefore wanted to improve the overall IP protection rating of the system for increased reliability.
The locker itself is at the heart of the vehicle controlling all of the vital system functionality for the essential services. Mainly consisting of air valves, hydraulic valves and water valves, the locker controls and drives the sweeper brushes and the main cylinders that provide for the emptying of the spoil collection hopper.
One of the major strengths of Norgren is the fact that they pride themselves on close working relationships with all of their customers. With a proven track record of supplying pneumatic solutions to Johnston Sweepers, Norgren were chosen to closely collaborate with them on the design of the new system. So began a period of close cooperation between the Norgren engineers and the design team at Johnston Sweepers. It was imperative for this new design that both teams of engineers worked together to achieve the competitive advantage that Johnston were looking for. It was not simply a matter of following instructions from Johnston but actively participating in the whole design process and making recommendations that added value.
In conjunction with Johnston a new locker system was designed that satisfied all of the main specification requirements with plug and play configurability being at the heart. With the new plug and play system the locker can be adapted easily to match individual customer requirements. This ultimately means reduced production times, cost savings and greater competitive advantage.