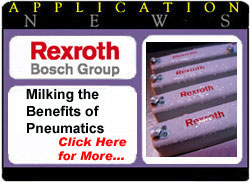 By Kjell Lyngstad, Market Segment Manager- Food & Packaging
Bosch Rexroth Corporation- Pneumatics
Manufacturers around the world rely on machinery to rapidly produce quality products on a daily basis. Investing in the right technology and proper equipment is critical to the overall success of the business by increasing the bottom line. Companies that continually process food and frequently washdown their machines are turning to pneumatics to decrease downtime, lower maintenance costs and, ultimately, increase production.
Evergreen Packaging, a beverage and juice equipment manufacturer based in Cedar Rapids, Iowa, has used pneumatics technology for over 30 years. Most of the equipment produced at Evergreen is gable-top equipment so the machines form, fill and seal gable-top cartons in the dairy and juice industries. Pneumatics is an ideal solution for this type of environment. Because the equipment in a dairy or juice plant needs to be very clean to avoid contamination, it has to be washed down constantly. The machines are not just subjected to water, but are also exposed to chemical cleaners and sodium potassium hydroxide.
Advantages of Pneumatics
With minimal contamination risks, pneumatics is a very clean technology and the first choice for food and packaging companies such as Evergreen. This circumstance makes it desirable for sanitary food applications compared to other technologies such as hydraulics, which sometimes has oil leaks. According to Tim Hughes, development project manager for Evergreen Packaging, choosing the wrong technology can have negative effects on production: "In a wet environment, having leaked oil on a polished tile floor becomes a real safety hazard."
Using pneumatics, particularly for washdown and sanitary food applications, is an advantage because of the low maintenance costs and downtime associated with it. "In the dairy and juice industry, you can't afford to have downtime on a production line," said Hughes. "Even if a machine stops working, milk is continuously coming in, and customers expect milk to be at the grocery store. Since stores get their milk shipments in everyday, avoiding downtime is absolutely critical." Hughes continues, "Regarding maintenance costs, dairies survive on very low margins. If they have high maintenance costs for keeping a piece of equipment going, that comes out of the profit from the facility. So, maintenance cost is critical. That's the beauty of pneumatics; it's easy to troubleshoot and to detect the problem without downtime being an issue."
Pneumatic products are a great choice for the food industry because they withstand even the toughest environments, with a longer life expectancy due to their simple design and the limited number of internal components. The major valves and cylinders come standard, so spare parts are available from a number of distributors and they are flexible in use and functionality. In addition, the systems are easy to design and the components are easy to configure.
There are several other advantages to using pneumatics in food applications including its affordability and durability. "A pneumatics system can be anywhere between 35-50 percent cheaper than a full mechanical system," Hughes said. "Most importantly, it is so user friendly. The sheer muscle of pneumatics—an air cylinder is basically a mechanical muscle—allows you to do so much with it and makes it so easy to use and control. It has become very reliable."
Selecting Pneumatics Equipment
Because it is cost effective and easy to maintain, pneumatics is ideal for food processing applications where washdown is a consideration. When using pneumatics in food applications, it is important to remember to:
Select the right product for each application—various products suit different needs.
·Mount the valves close to the cylinders.
·Mount the cylinders so they can be easily cleaned.
·Decentralize valve-manifolds on larger production lines.
·Dimension pneumatic systems for optimal performance.
·Ensure the air-pressure is constant to maintain optimal actuator cushioning by placing the regulators close to the actuators.
·Filter the compressed air according to the applications for which it is being used. If possible, place filters by each valve-manifold.
·Use food grade lubrication. Lubrication is generally not needed but, if it is used, it must be food grade (type NSF H1).
·Involve your technology supplier from the beginning of the project to get the correct solutions for each application.
Bosch Rexroth offers pneumatics solutions designed for food applications, such as valves, actuators and cylinders, and helps customers select the right solution for each application. The industry gives a rating, such as IP65, to pneumatics components based on particle tight design and watertight design—the first number is the dry particle rating and the second number is the wet test rating. Bosch Rexroth is the only company offering IP69K rated pneumatic valves, such as the Clean Line Valve (CL03), that withstand pressurized water and steam damage. In order to meet the IP69K rating, the valves had to withstand pressure of 1450 psi/100 bars at a distance of 4-6 inches/10-15 cm, with water (at a temperature of 80 degrees Celsius) flowing at 14 to 16 inches/min while the object was rotated between 0, 30, 60 and 90 degree angles.
Pneumatic actuators are also used in sensitive washdown applications and with parts that are in direct contact with food. If applied wrong, pneumatic actuators can act as bacterial pumps, so it is important to ensure they are fitted properly. For harsh washdown applications, cylinders such as the ICS-ISO Clean Stainless Steel Cylinder Series contain rounded corners for easy drainage, positive sealing, "male" cushion-screw, clean cylinder-noses and food grade lubrication (type NSF H1).
According to Tim Hughes, for companies such as Evergreen, which heavily depend on pneumatics equipment, Bosch Rexroth offers the ideal solution: "Our environment is a washdown environment. We have to assume everything we use is going to get a bath everyday whether it likes it or not. There are a lot of valve companies in the industry that claim to have IP65 products, which means the valve can handle hose-directed water. Our experience has been that the IP65 components really don't work as well as the manufacturers believe they do. With the Clean Line products from Bosch Rexroth, the design is actually IP69K, which is extremely watertight. All the surfaces are either plastic or stainless steel, so you don't get any corrosion from cleaning chemicals, versus other valves that use aluminum or some lesser metals that would corrode."
For washdown and sanitary food applications, pneumatics applications provide effective prevention against contamination while maximizing operational costs, guaranteeing food quality and improving production capacity. No matter what equipment is chosen, the key points to remember are it must be easy to clean and maintain. And, Hughes points out the importance of getting products from a company that has a good reputation in the industry: "Someone can come in the door with a great valve but if it's a company you've never heard of before, that's a risky thing to do."
Sidebar: Potential Cost Savings Using the Clean Line Valve (CL03)
With rising energy costs and the ever-increasing expense of stainless steel cabinet installations, Bosch Rexroth knew it was time to design a pneumatic valve that could eliminate stainless steel cabinets and minimizing air-tube and wiring installation and reduce cycle time, which could reduce expenses by over 50 percent. The IP69K rated Clean Line Valve from Bosch Rexroth is the only washdown pneumatic valve in the industry.
The CL03 was designed in cooperation with the leading food and packaging End-Users and OEMs in both Europe and the USA. When designing the CL03, Bosch Rexroth took the needs of the industry (such as hygiene) into consideration and produced a product that contains the following:
·Smooth corners and drainable surfaces;
·Strong fiberglass reinforced polyamide 12;
·Stainless steel A2;
·Only positive joints;
·Separate covers to resist temperature differences;
·Manual override that is protected by a cover;
·Light, "clean" color and minimum labeling;
·HNBR seals between the valve cover, sub-base and sub-plates;
·Minimized valve manifold design time through via on-line configurator;
·And no aluminum materials in exposed surfaces.
The CL03 maximizes operational costs by ensuring corrosion resistance; secures food quality through optimized hygienic design; and improves production capacity by mounting the CL03 valves closer to the actuators. By placing the valves closer to the actuators, the machine moves at a faster rate and end users are able to reduce the cycle time, which increases productivity and reduces cost.
Photo Reference and Captions:


(Caption 1): The Clean Line Valve (CL03) from Rexroth is the only IP69K rated (capable of withstanding 1450 psi wash down) pneumatic valve in the industry.

(Caption 2): The CL03 Clean Line valve from Rexroth was designed for the most demanding food industry applications with input from several of the leading food processors and OEMs.

(Caption 3): The new Rexroth ICS all stainless steel cylinders available in both 316 and 304 grades, combined with a hygienic design are ideal for harsh washdown applications.

(Caption 4): The unmatched hygienic design and carefully selected corrosive resistant materials allow the Rexroth CL03 valves to be located closer to the actuators, improving productivity and eliminating the cost of expensive cabinet installations.
Bosch Rexroth Corp. – Pneumatics
Lexington, KY
www.boschrexroth-us.com
1-800-REXROTH (1-800-739-7684)
info@boschrexroth-us.com
Bosch Rexroth AG, part of the Bosch Group, achieved sales of approximately $5.7 billion (4.6 billion Euro) in 2005 with over 28,200 employees. Under the brand name of Rexroth the company offers all drive and control technologies, from mechanics, hydraulics and pneumatics to electronics and associated service. Over 500,000 customers worldwide utilize Rexroth's unique technological know-how to implement their innovative and future-oriented systems and machine concepts. The global player, represented in over 80 countries, is an extensive supplier of components and systems for industrial and factory automation and mobile applications. For more information visit www.boschrexroth-us.com.