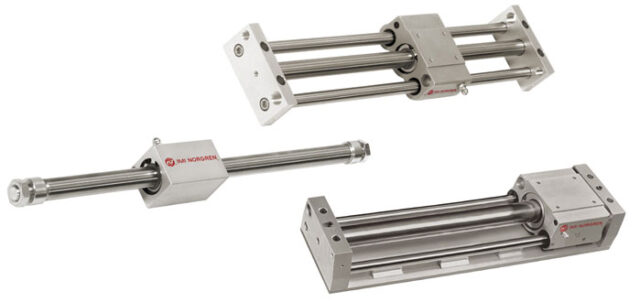 IMI Norgren® MC Series rodless cylinders save space, have high load capabilities
LITTLETON, Colorado (April 25, 2019) Longer stroke, smaller footprint and high-load and side-load capabilities are all special advantages of rodless pneumatic cylinders. Now IMI Norgren® MC Series magnetically coupled rodless cylinders deliver the extra benefits of greater design flexibility and easier application-specific customization.
The cylinder's stainless steel tube and machined components are independent of each other, with the carriage and piston synced by powerful magnets. This design allows more varied profiles and specialized profiles to meet requirements for applications like cutting, opening doors, transferring between conveyors, or feeding materials into machinery. An unguided version has an especially slim profile. IMI Norgren MC cylinders even offer oil service seals for hydraulic applications.
To put these versatile cylinders to work in your factory or machine, visit https://www.imi-precision.com/us/en/imi-norgren/magnetically-coupled-rodless-cylinders
or call 800-514-0129.