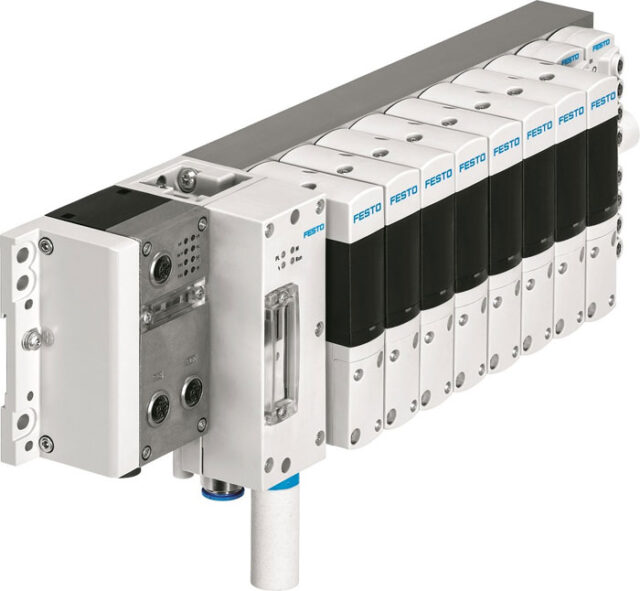 This innovative pneumatic system eliminates the high cost and reliability issues associated with electronics degrading in salt air. (Festo OTC Booth #3625-13 in the German Pavilion)
ISLANDIA, NY, May 1, 2019 — Festo showcases at the Offshore Technology Conference (OTC), NRG Park, Houston, May 6 – 9, the company's latest pneumatic Fingerboard-latching system for drill-rig tubulars. Festo also introduces the rugged SIL3 rated VOFC/VOFD family of solenoid valves that are designed for the highest level of safe, long-term operation in extreme environments. (Festo OTC Booth #3625-13 in the German Pavilion)
Enhanced fingerboard control and monitoring
The Fingerboard-latching system utilizes the VTEM Motion Terminal's intelligent pneumatic valves to control and monitor the exact locked or completely open position of each latch without the need of electronic sensors and wire harnesses on the Fingerboard. The VTEM Motion Terminal senses and controls the position of each latch from closed to 100% open by continuous monitoring of cylinder air pressure and flow. Each Motion Terminal features internal sensors, pressure regulators, flow control, exhaust valves, and processing and communications capabilities. Measurements are graphically displayed via human machine interface (HMI) and information is available to supervisory control systems.
Each intelligent valve replaces two ordinary pneumatic valves for a 50% reduction in the number of components. A white paper on the Fingerboard solution is available for download and can be requested by writing to customer.service.us@festo.com.
"This second-generation solution represents a major step forward toward a safer and easier to maintain Fingerboard-latching solution," said Craig Correia, Director, Process Industries, North America, for Festo.
New corrosion resistant, SIL3 solenoid valves and coils available
VOFC/VOFD solenoid valves and VACC solenoid coils increase process safety across the entire system, cutting costs associated with failure and maintenance. VOCD/VOFD solenoid valves can be used in many demanding applications and meet the highest safety standards (up to SIL3, explosion protection). These electric valves are backed by German Technical Control Board (TÜV) certificates up to SIL3 in accordance with IEC 61508.
The surface of the valve housing is treated with the Ematal process for optimum resistance against atmospheric and chemical degradation both indoors and outdoors. Ematal anodizing creates a hard aluminum oxide layer with titanium oxide intercalations, which makes the valves resistant to wear and abrasion and gives these components first-class sliding qualities.
The 3/2- and 5/2-way VOFC/VOFD solenoid valves are intended for controlling and safe deactivation of pneumatic drives in potentially explosive areas of chemical and petrochemical plants. The NAMUR flange pattern makes the solenoid valves suitable for quarter-turn actuators. The integrated spring chamber ventilation function protects quarter-turn actuators with spring return (single-acting cylinders and actuators) against contaminated ambient air and weather influences. The solenoid coils from the VACC series are available for ignition protection types: Ex e mb, Ex ia, Ex db, and Ex d. Local and regional certifications are available.
Maximum reliability when it comes to replacement
Wherever production systems are located, end users and original equipment manufacturers can rely on Festo products and solutions being available. Fast delivery of replacement parts makes purchasing and logistics easier. For more information, call Festo at 800-993-3786 and visit the Festo the website www.festo.us.