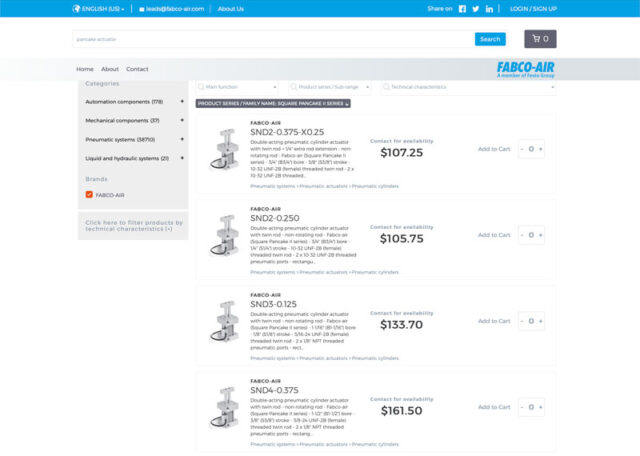 Gainesville, Florida — March 4, 2022. Fabco-Air is pleased to announce our new webstore (shop.fabco-air.com). Partnering with KYKLO, a leading content and e-commerce solution for the electrical, automation, fluid and energy industries, the Fabco-Air webstore has been designed to be a one-stop shop for all our standard products to streamline the product selection, quoting and ordering processes for customers and distribution partners.
Every Fabco-Air product category is available on the webstore. Each category includes a list of its corresponding product series along with the series' pricing and availability, and a summary of its features and key specs. When a user selects a specific series, a product page provides a fully detailed description and complete specifications plus documentation and any related products that can help simplify the design process.
Customers can request a quote directly and can choose to include their shipping instructions to expedite the ordering process. The webstore is secure and requires only a one-time account setup. No additional steps are necessary for Fabco-Air to begin the quotation/ordering process. Account holders can also save their selections and review their order history.
This expansive webstore follows recent upgrades to Fabco-Air.com and is further proof of our commitment to delivering a robust online experience for buyers and engineers specifying machine components. In addition to creating a powerful procurement platform, the new webstore fulfills our equally important goal of enhancing our online presence and brand awareness while making it easier to do business with Fabco-Air.
In the coming weeks, the webstore will link directly to Fabco-Air.com and will work in parallel with the current online configurator in order to support all online requests for information.
Check out our easy and convenient webstore at shop.fabco-air.com.
About Fabco-Air
Fabco-Air provides best-in-class pneumatic products, solutions and support for a variety of industries, from automotive to semiconductor manufacturing. In addition to the Original Pancake® cylinder, we design and deliver linear slides, actuators, air preparation units, valves and more—all with short lead times on both custom and off-the-shelf units.