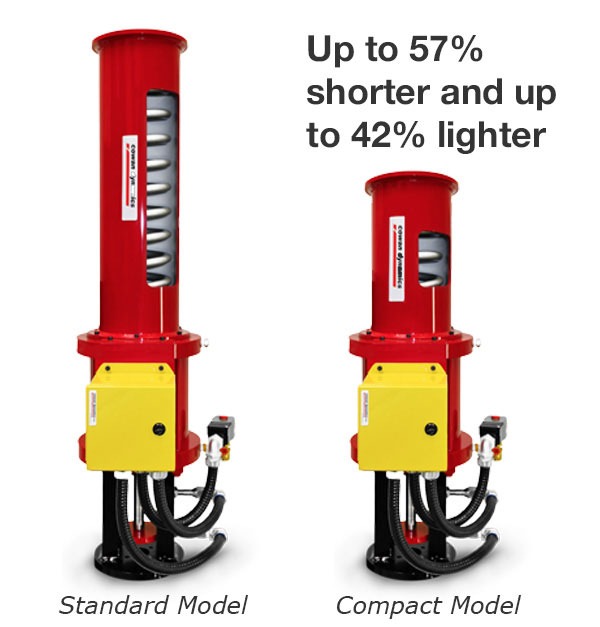 Montreal, Quebec
May 15, 2020
Cowan Dynamics is pleased to announce the release of the next generation AS Series, Spring-Return Pneumatic Valve Actuator. Based on the proven AS Series, the Compact version was designed specifically for applications where space is a premium. The AS Compact provides amazing reductions, up to 57% shorter and 42% lighter canisters compared to the standard model.
Safety Integrity Level
The AS Series has a SIL-3 Capable rating, designed to provide reliable actuation in critical applications without compromising the facilities Safety Instrumented Systems (SIS – compliant with IEC 61511/ISA 84).
Custom Orders no Longer Needed
Cowan Dynamics has developed a standardized, catalogue-based spring-return actuator solution. Customers can now simply refer to a dimension table and order their product according to the required dimensional size and thrust.
Innovative factory-sealed Canister Design
The spring is installed within a factory-sealed canister, allowing safe in-field service of piston packing, rod seals and bushings without handling the spring. Welding Certified to CSA 47.1 Division 2
Key Features:
SIL 3 Capable
Thrust: up to 72,000 lbs
Bore Size: 6″-42″
Configuration: Single-Stage and Tandem
Stroke Range: Up to 12″
Pressure Rating: 150 psi
Welding Certified to CSA 47.1 Division 2
Fail-Close or Fail-Open
To learn more about the AS Series, Spring-Return Pneumatic Valve Actuator, visit: https://www.cowandynamics.com/spring-return-valve-actuator/
About Cowan Dynamics Inc.
For over 60 years Cowan Dynamics continues to lead the way with their range of actuator valve automation & controls. Their products are used globally in harsh environments and are chosen for their safety features, product performance and reliability.
The head office and manufacturing facilities are located in Montreal, Quebec, sales offices located in Mississauga, Ontario & Houston, Texas. They are represented by an international value-added partner network.
Want to see more New Products, Click Here