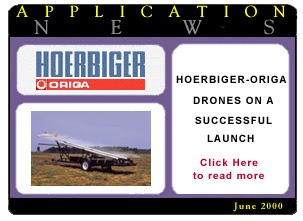 Pneumatic cylinders have long been recognized for their high speed capability, however, rarely are their limits tested to the extent that Hoerbiger-Origa rodless cylinders are in a unique application designed for the US defense industry.
The Dragon Drone UAV (Unmanned Aerial Vehicle) system produced by BAI Aerosystems provides land and sea forces the ability to perform reconnaissance, surveillance, and battle damage assessment operations, with minimal risk to personnel and detection.
The delta wind drone is tailored from state of the art composite materials and is typically powered by a highly efficient 2-stroke gasoline engine. Two personnel normally operate the drone, one controlling the programmable autopilot system and the other the payload, usually a daytime or night vision camera system.
To minimize the necessary engine size, eliminate the need for an under-carriage and ensure the most rapid, safe and reliable deployment of drones, BAI required an effective launch system.
Two rodless pneumatic cylinders from Hoerbiger-Origa form the core of the launcher system. The two 80mm bore units with 3meter stroke fully support the drone launch platform. The launcher is charged to about 8bar pressure using bottled nitrogen or compressed air from a light duty mobile compressor. Control valves and air supply lines are carefully tailored to provide the highest possible flow rates and response, which ensures that the 50Kg drone is accelerated to a minimum flight speed of 100 km/hr (28m/s) by the end of the cylinder's stroke. Linear deceleration of the launch platform and piston and assemblies is achieved using specialist shock absorbers integrated into the cylinder end caps.
By utilizing rodless cylinder technology, the launcher is self-contained and enables the rapid deployment of drones in quick succession. Compared to alternative launcher systems it eliminates the dangerous and expensive use of consumable launch pistons and interface hardware, and is readily adaptable for shipboard applications.
Following extensive trials and service use in the Gulf war, drones are fast becoming essential items for modern armed forces. Not only are they low cost and relatively expendable, they are extremely difficult to detect and due to their small size are even more difficult to shoot down. In addition to reconnaissance and forward observation duties, drones have wide potential in other military applications, including: delivering pepper spray for crowd/ riot dispersal; pamphlet distribution; the dispersal of acoustic and magnetic sensors for identification of passing vehicles; the deployment of specialist ordinance devices and the detection of biological agents.