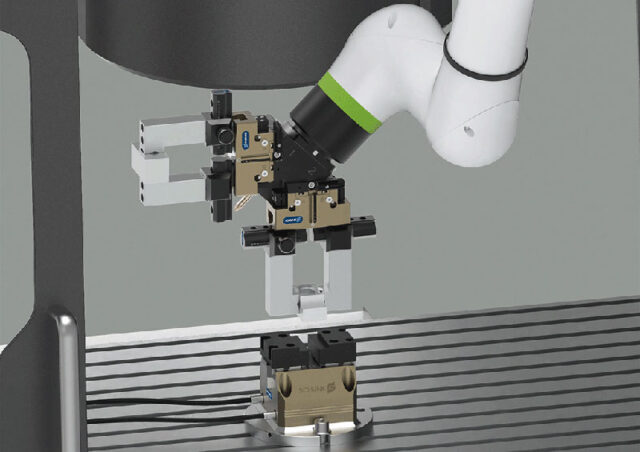 The High-performance universal gripper from Schunk is the new optimized 2-finger parallel gripper JGP-P, which is further expanding its series of universal grippers alongside the SCHUNK flagship PGN-plus-P. The successor of the JGP scores with a higher gripping force, flexibility in application, and a variety of monitoring options. Therefore, the gripping system specialist continues to raise the bar for the category of an optimized price-performance ratio for pneumatic grippers.
Suitable for many tasks: The SCHUNK JGP-P universal gripper is reliable when it comes to cycle-time-optimized loading and unloading of machine tools, assembly work, and Pick & Place tasks.
For all users who have criteria such as flexible, strong, and cost-effective on their gripper wish list, a wish comes true with the new JGP-P 2-finger parallel gripper. It is a High-performance universal gripper from Schunk that supports loading and unloading processes of machine tools, assembly work, and Pick & Place tasks. A whole range of new features makes this possible. This includes the robust T-slot guidance with a longer base jaw guidance: compared to its predecessor, 30 percent longer gripper fingers can be used. The base jaws are fully guided in the housing in any gripping state. This improves its performance and covers a wider range of different applications.
The JGP-P also has an up to 50 percent higher gripping force than its predecessor at the same gripper size. The increased surface area of the drive piston makes this possible, and the newcomer can easily handle a higher workpiece weight. Users can rely on smaller sizes, additionally save costs and the variety of gripper types reduces. This means that the return on investment is at least 10 percent higher. The change from the old JGP to the new JGP-P is possible at any time, because the grippers are fully compatible.
Flexible all-rounder: The new JPG-P 2-finger parallel gripper scores with its optimized T-slot guidance and a wide range of variants.
Workpiece monitoring made easy
No less than ten matching sensor systems enable a wide range of monitoring options, such as monitoring the stroke position or workpiece differentiation. Good or bad parts can be sorted quickly and reliably based on the dimensional deviations. From size 64, the JGP-P is also available with inductive sensors with a diameter of 8 mm.
Flexible mounting options on two sides allow the gripper to be mounted universally and flexibly in three screw-on directions. The supply of compressed air is possible both via screw connection and via the hose-free direct connection. An integrated sealing air connection also improves process stability. This is particularly important after machining workpieces, because the gripper inevitably comes into contact with chips and coolant during cleaning. The integrated sealing air connection prevents penetration into the gripper. Failures due to contamination are now a thing of the past.
Forever a benchmark
If you are planning more demanding gripping tasks, the PGN-plus-P gripper from SCHUNK is the ideal choice. With a high power density and a unique variety of options, it is considered to be a benchmark all over the world in the field of universal grippers. The premium gripper with optimized multi-tooth guidance offers even greater power reserves and a unique range of accessories. It therefore covers almost the complete spectrum of all automation applications and is also lifelong maintenance-free.
https://schunk.com/us_en/news/highlights/notifications/article/103833-high-performance-universal-gripper/
SCHUNK
211 Kitty Hawk Drive
Morrisville, NC 27560
ISO9001:2008 Certified
toll free: (800) 772-4865
For more New Products, Click Here.