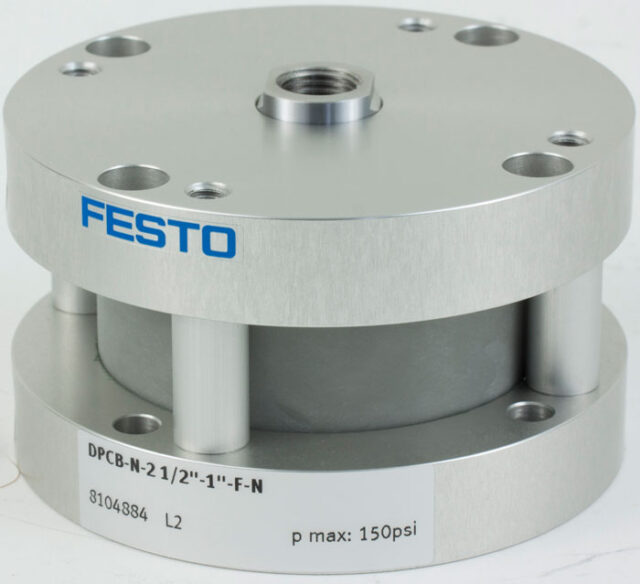 Aluminum body DPCA cylinders are designed for long service life in new systems, while high-strength composite-body DPCB cylinders serve the MRO market.
ISLANDIA, NY, May 29, 2019 — Festo announces availability and support for the new DPC family of inch series compact 'pancake' cylinders – high-force short-stroke cylinders designed for tight spaces. Two versions of these long-life cylinders are available – the DPCA for new machines and the DPCB for maintenance, repair, and operations (MRO) applications with 'drop-in' compatibility to other manufacturers.
"The automation industry recognizes that Festo differentiates itself through engineering innovation, product quality, and custom solutions that make our customers more productive," said Michael Zakrzewski, Vice President of Market Management – North America. "The pancake cylinders DCPA and DCPB are important in serving customers with high force, compact cylinder requirements. We are proud to be broadening our pneumatic cylinder line with these products."
Both DPC A and B models feature a choice of eight bore sizes and variable stroke lengths up to four inches. Both models are pre-lubricated with Magnalube-G® PTFE grease, an extended-service-life lubricant. Magnetic piston options are available for cylinder position sensing as are sensors and other accessories such as clevises. Custom cylinders are also available.
The DPCA cylinder body is machined from high-quality aluminum and is clear anodized for corrosion resistance. For added longevity and strength, the DPCA features a hard chrome plated stainless steel piston rod and a non-metallic composite rod bushing.
The model DPCB features a self-lubricating composite body that offers long-service life and trouble-free operation. DPCB performance enhancing features include clear anodized aluminum alloy heads for corrosion resistance, stainless steel tie bolts, chrome plated stainless steel piston rod, and a Duralon® rod bearing for reduced wear.
Festo acquired Fabco-Air, the originator of the pancake cylinder, in 2018 with the intent of broadening its pneumatic product portfolio by bringing customers a variety of inch-based product. Festo has now incorporated the Fabco-Air compact Pancake cylinders into its ERP and logistics system for easy online configuring and order processing.
For more information, please visit www.festo.com.
Want to see more New Products, Click Here