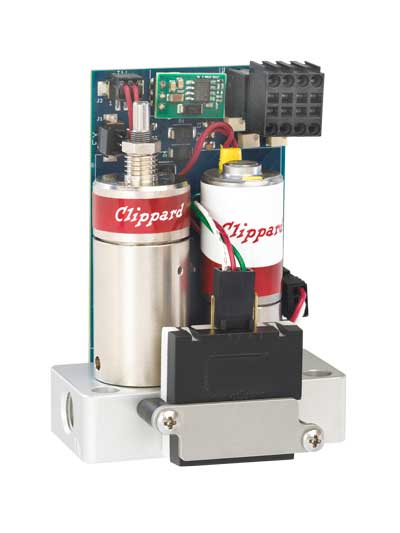 The Cordis flow controller utilizes an extremely fast-reacting mems technology sensor upstream from a proportional valve, with the option of a DR-2 regulator for accurate and precise pressure control in a small package. Unlike other mass flow controllers that require a 30 minute warm-up time, large differential pressures, and limited flow ranges, the Cordis requires less than one minute warm-up, its pressure drop is ≤14″ H2O, and it features flow ranges as low as 0 to 30 sccm. Standard control options include 0.2 to 10 VDC, 4.32 to 20 mA, and 3.3 VDC Serial.
Primary Cordis Benefits:
50:1 turndown ratio
Compact size and weight
≤14″ H2O pressure drop
<1 minute warm-up
Multiple low flow ranges
<50 ms response time
≤25 mV resolution
Optional integrated regulator
OEM style card unit or IP65 housed for light industrial applications
The Cordis flow controller uses a microcontroller, integral flow sensor, DR-2 regulator, and one proportional valve. Supply gas is connected to the regulator which accurately maintains pressure to the flow sensor and the Clippard EVP or DVP proportional valve. As command is increased, the comparative circuit opens the valve to allow flow to pass through the onboard flow sensor. This provides an active feedback signal for the microcontroller to satisfy the flow setpoint in the process. If at any point the flow sensor detects a value higher or lower than the setpoint command, the proportional valve will modulate more or less output to maintain a stable and accurate control of flow in the process.