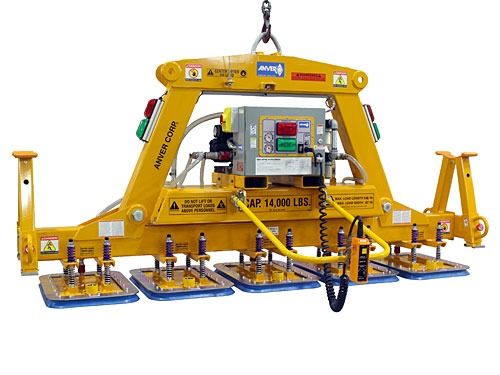 ANVER Corporation announces GF-Series vacuum lifters designed to handle heavy, non to semi-porous loads during processing. The GF-Series incorporates the latest in sophisticated lifting technology for the handling industry and is engineered to handle a wide range of loads, increasing speed, productivity and efficiency. They feature faster cycling times, increased safety features and easier service than older designs. The frame, vacuum generator beam and pads all feature modular quick change construction.
The ANVER GF-Series vacuum lifters are available in both standard and custom configurations to lift loads that require rugged and heavy duty lifting for capacities up to 20 tons (40,000 LB). The ANVER GF-series modular generators are available in electric, battery and mechanical powered. They can be configured in hundreds of combinations with lift frames and large vacuum pads in various shapes and sizes for extra heavy, long or bulky loads to best suit your application needs. Vac-Packs can be replaced in minutes to minimize downtime in case of service.
The ANVER GF-Series speeds production due to a large reservoir allowing the lifter to attach almost instantly, decreasing attach time. The large reservoir not only increases efficiency but also increases safety in the case of power failure due to the vacuum that remains in the system.
Additional features of the ANVER GF-Series include a Dual redundancy safety Lock-out Lifting Bail that requires operator to first set the unit down before they release the load, and a state-of-the-art Vacuum Control Module (MCU, micro control unit) which minimizes vacuum pump use greatly increasing number of hours between servicing. Units can be pendant or radio controlled.
ANVER Corporation
36 Parmenter Rd
Hudson, MA 01749-3214 USA
North America: +1-800-654-3500
Worldwide: +1-978-568-0221
Fax: +1-978-568-1570